About the Teacher Lesson the flower of crystal
I'm Kimie Aso, the healing Kaleidoscope & Pastel art in Japan.
I introduce the Teacher Lesson of The flower of crystal.
Teacher lesson is the first step to the joy of Teaching.
*The Meister Lesson (The Flower of Crystal)
*What's Course contents
1. Class to Teach
2. Class to deepen the way of learning
We use the textbook in English.
After learning the textbook, you can see how the teacher draws(demonstration).
Then we draw the flower of crystal "RINKA"

*Who can take this course?
Those who have completed the Flower of Crystal Meister Course.
Those who are planning to take the Flower of Crustal Meiste Course.
** Discount: If you pair up for applying for Meister and Teacher Courses, you'll get 5,000yen off.
Please Click here about Meister course.
*After completion of the course
You'll be certified to teach Meister Course and Grand Meister Course.
After meeting the certain qualifications , you'll be able to apply for the Parter School System, which allows you to teach Teacher Course.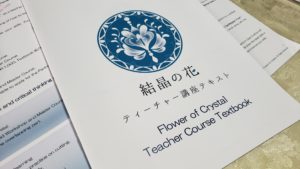 *Duration
About 7 hours(Lunchtime included)
*Fees
35,000yen
(lesson fee 25,000yen certification fee 10,000yen)
*From 2019, I bear 4% Paypal transfer fee(in case of Paypal) with the price revision.
Let's bloom the Flower of Crystal, together!
Thank you.